EXCLUSIVE BRAND STYLING AND MENTORSHIP
FOR THOSE WHO DESIRE TO BE INDUSTRY LEADERS AND TASTEMAKERS.
HANNA FITZ'S PERSONAL MESSAGE
When you're building your entrepreneurial dream, it's a really special journey and invitation to the world to be a part of your unique culture, message, transformational offers and life changing experiences.
Your brand is your opportunity to create your own universe with its own ideas, style, message and a beautiful journey into places your clients and customers were not able to experience without you.
As an international brand strategist and business coach who over the last 7 years has consulted for luxury award-winning brands internationally and travelled to over 120+ cities globally, I've seen how your brand can powerfully shift your business.
Coaching with women from around the world this year, had me asking, "How am I meant to support more women in creating world class brand experiences for their clients?" I feel very called to mentor and provide full world class branding team support to 10 women in creating their six and seven figure businesses in 2018.
INTRODUCING LUXURY BRAND MASTERY 
I created this elite program for the discerning woman who wants her online brand to be the ultimate client experience and a reflection of her high level skills, expertise and luxurious sense of style.
You won't have to spend hours searching the Internet to find graphic and website designers who may or may not deliver. You'll have year-long support with a brand strategist, who actually understands feminine luxury style to help you manifest your vision online.
Your calendar would be cleared up, so that you can spend more time focused on money-making activities to explode your business online.
Supporting you in creating your world class strategies and visuals designs to create a high level brand positioning online.
I'm all about helping support you elegantly and fully, in creating greater consistency and irresistible imagery online while you take your business to six or seven figures and beyond.
YOUR EXCLUSIVE INVITATION TO
This year-long mentorship and brand building support.
Receive personal bespoke support and expert guidance from an international brand strategist with an eye for exquisite style and a mind for strategic results.
Stand out as a high level industry leader and make powerful emotional and visual connections with clients all over the world. Create your dream luxury brand to confidently command premium prices for your services online.
Build a stronger expert and international positioning with a cohesive and stand out brand. Increased EXPOSURE and OPPORTUNITIES with international brands that are finally aligned with your brand strategy and image.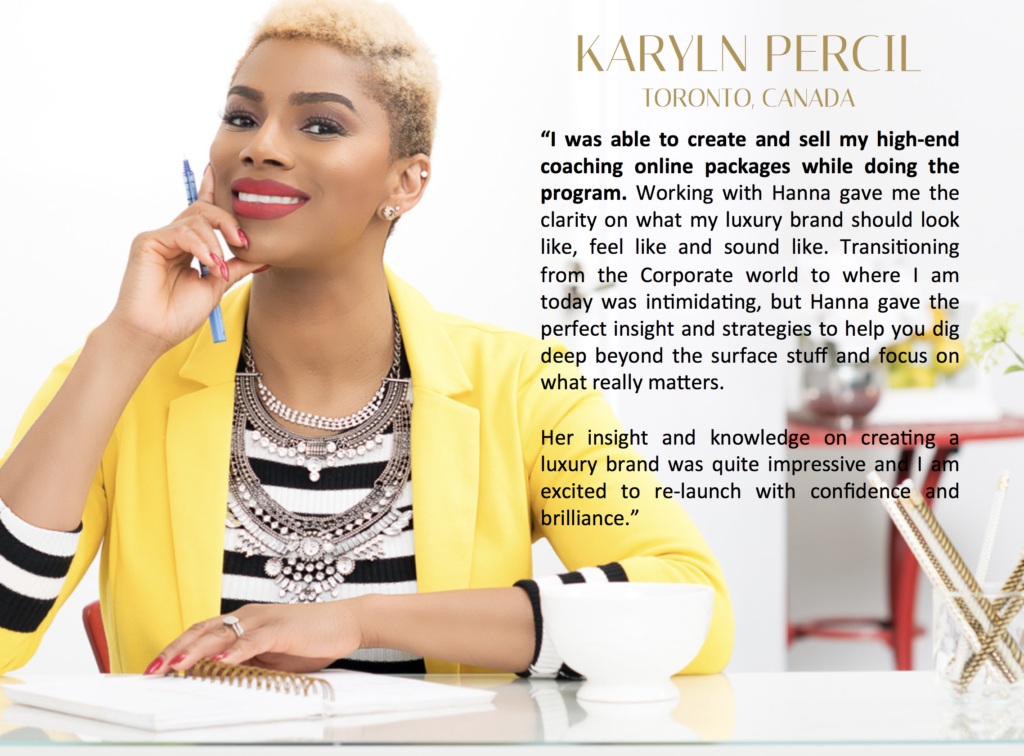 READY TO CREATE YOUR LUXURY BRAND?
LUXURY BRAND MASTERY is for you if...
You have already been in business and are ready to elevate your status in your industry and take your brand and income to the next level with a luxurious brand.
You desire to create online experiences, visual and written messages that are IMPOSSIBLE TO IGNORE.
You are ready to step into your SUPER STARDOM with a brand worthy of your BRILLIANCE.
In your application process and interview, Hanna Fitz will personally meet with you to explore your desire for your brand and create a customized plan to BRING IT TO LIFE MASTERFULLY WITH ELEGANCE AND STYLE.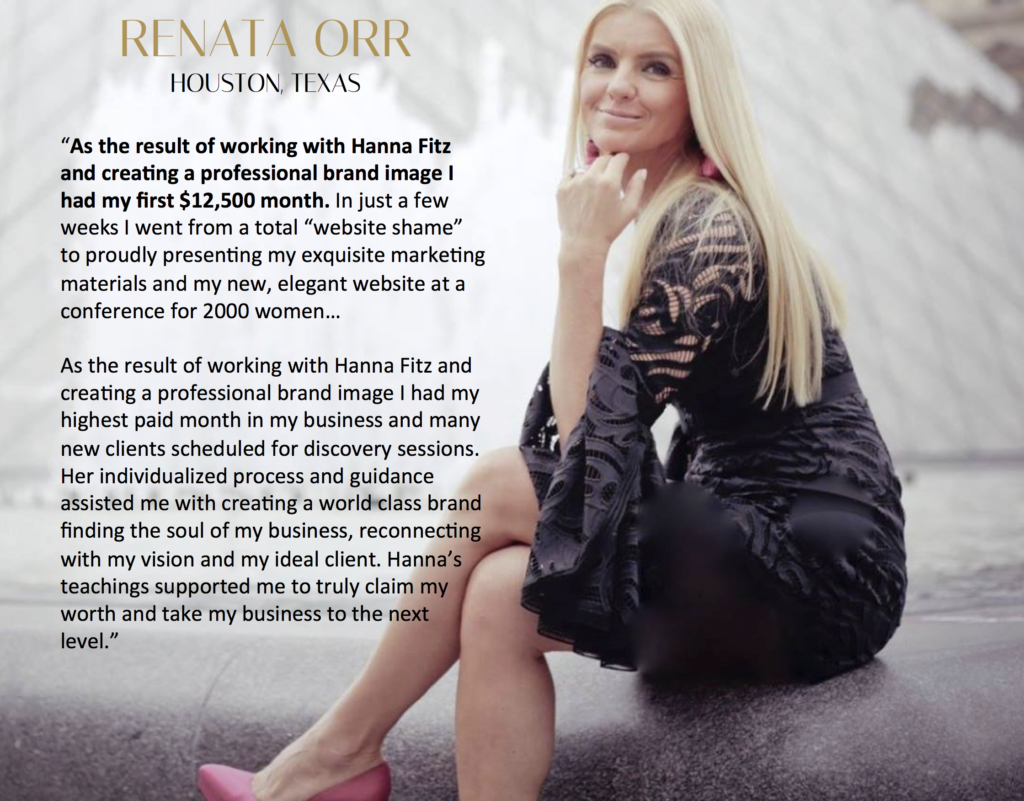 YOU'RE INVITED TO BE AN ELITE CLIENT TO CREATE YOUR ULTRA HIGH-END BRAND EXCLUSIVELY DESIGNED FOR 10 POWERHOUSE WOMEN.
If you know at soul level that this level of support and guidance is meant for you, you're in the right place.
FALL COMPLETELY IN LOVE WITH YOUR BRAND ONLINE
INVESTMENT - LUXURY BRAND MASTERY