WORLD CLASS BRAND IMAGE SUCCESS PACKAGE
LET'S CREATE YOUR STUNNING WEBSITE AND STAND OUT IMAGE ONLINE
HOLIDAY MAKEOVER SPECIAL $297
(REG. $497)
INSIDE THIS STAND OUT BRAND IMAGE SUCCESS BUNDLE, YOU'LL GET
STYLE YOUR BRAND WITH THE CREATIVE BRIEF
BRAND IMAGE ONLINE COURSE
LET'S GET YOUR WEBSITE LAUNCHED WITH LESS TIME AND MORE STYLE
I got so tired of seeing brilliant women with boring, outdated looking website or a coming soon page that has been up for way too long, overshadowing their magnificence and keeping them from being seen by high paying clients.
PLUS the endless frustration trying to explain your vision to graphic designers who can't seem to recreate it into a timeless logo, gorgeous website, sales pages and marketing material you absolutely love.
LET'S FACE IT YOU'RE NOT TECHIE AND YOU DON'T NEED TO BE TO HAVE A GORGEOUS WEBSITE.
This program is designed to take the frustration out of trying to figure out how to build a brand image online that authentically captures your high sense of style while knowing exactly what to ask your designer for. If you plan to DO IT YOURSELF, this is a great guide that will save you time and money.
I have put together 4 amazing audio tutorials and 5 in-depth brand clarity, brand visual personality, website and photo shoot planning workbooks that will guide you on the step by step process for creating your high-quality, elegant and professional brand image.
IT'S TIME TO TAKE DOWN THAT COMING SOON PAGE OR... THE ONE YOU DON'T WANT CLIENTS TO SEE... AND LAUNCH WITH STYLE.
Finally... you can have the dream website that has you excited and proudly saying "this is my URL!"
Access to my signature playbook for planning and art directing your branded photo shoot like a pro with high-quality, magazine worthy photos that captures your true brand personality.
CREATE A VISUALLY STUNNING BRAND IMAGE THAT GETS RESULTS.
GET THE FULL PROGRAM FOR ONLY $297
"Hiring a professional photographer is a big investment, using THE CREATIVE BRIEF as your guide ensures that your money is well spent. 




I'm in the process of creating a website for my business, and thanks to Hanna's guidance in THE CREATIVE BRIEF, I've got brand colors that I love, a logo that resonates, and an online storefront that conveys to my clients exactly who I am and the high-quality level of service that I offer. I've just had my first branding photo shoot, and I'm thrilled with the results thanks to Hanna's guidance in THE CREATIVE BRIEF. The workbooks helped me prepare the photographer and myself so that the photos convey exactly the image I want for my business.

Tioka, Paris
"Thank you so much for the being an angel messenger!" 




Your brand exercise was great to help me confirm what I already knew. As I worked through your list, I knew immediately how I wanted to proceed and instantly felt a sigh of relief. Thank you so much for the being an angel messenger!

Morgan, Atlanta
MEET HANNA FITZ, INTERNATIONAL BRAND STRATEGIST AND BUSINESS COACH
Hi I'm Hanna Fitz, founder of The Brand Atelier at Hannafitz.com, Amazon bestselling author and creator of The Cultured Life movement. I created this program because I saw how overwhelming and lost many entrepreneurs can feel when it comes to creating their online presence.
Questions like what to ask for from a designer, choosing the right WordPress themes, the right colors that will send the correct message to your ideal clients, choosing an amazing font that reflects your brand personality, designing a timeless logo with meaning and exactly what pages you must have on your website and what to put on them.
I want you to get online quickly and with a look that says I'M THE ONE TO DO BUSINESS WITH. My vision for you is to create more than a website, you need to give visitors a luxury experience.
HERE IS WHAT IS INSIDE THE PROGRAM
4 AUDIO LESSONS + 5 IN-DEPTH WORKBOOKS + TEMPLATES + 2 BONUS GUIDES 
MODULE ONE: IDEAL CLIENT AND BRAND CLARITY
  In this first module you will:
Learn the Five W's of brand image creation and how to define each one to create your authentic and signature brand image online.
Learn how to uncover what type of images will capture the attention of your ideal clients, so that you can create a brand image that resonates deeply with them. 
PLUS a template with the exact questions you need to ask potential to create an image that they will identify with and love. 
MODULE TWO: DEFINING YOUR MAGNETIC BRAND PERSONALITY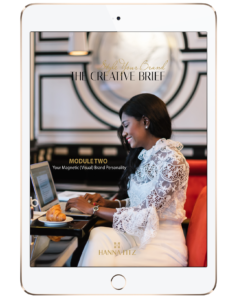 You'll be guided on creating a unique visual personality for your brand online that is authentically YOU and makes it easy for paying clients to find you.
You'll learn how to use the six essential elements required to create a stand out, elegant and high-quality brand image that sets you apart in the market. 
You'll be able to define your unique brand voice which is key for writing great website copy, social media post, that motivates your clients to buy now.
MODULE THREE: CREATING YOUR ICONIC BRAND IMAGE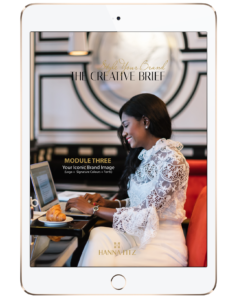 Your logo is your brand ambassador and needs careful consideration and proper execution. You'll learn how to create a timeless and powerful logo for your brand.
You'll also be guided through the powerful symbolism of color and typography and how to use them to appeal to your ideal clients, including using specific feminine symbols to attract female clients.
You'll also get a comprehensive Creative Brief worksheet for your Graphic Designer, which will enable him/her/you to execute a standout logo, magnetic colours and symbols so that your brand image is not only stylish but also very  persuasive online. 
Plus a checklist of what you should be asking your designer for including very important copyright information that most people forget to ask for.
MODULE FOUR- PART ONE: VISUAL MANIFESTATION OF YOUR ICONIC BRAND (WEBSITE DESIGN + PLANNING)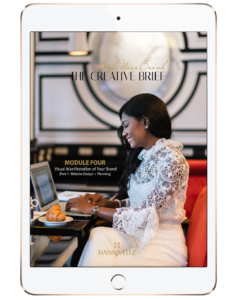 You get the in-depth Website Designer's Creative Brief Worksheet to clearly articulate your vision to your designer so that you can get the website you love with ease.
Plus the Ultimate Website Hosting Guide to selecting the best hosting company for your website VALUED at US$67 (this is great value and will save hours ensuring that you have made the best decision for your growing brand).
The six steps to creating a high-quality website built for lead generation and sales online including my guide on planning the copy for your home page and about page. 
MODULE FOUR- PART TWO: VISUAL MANIFESTATION OF YOUR ICONIC BRAND (SIGNATURE PHOTOSHOOT PLANNING)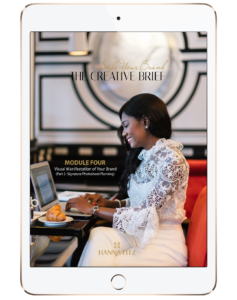 Learn the art of alluring storytelling through photography.
You'll get access to my Branded Photo Shoot Playbook to masterfully plan your iconic photo shoot based on my experience art directing and publishing a luxury magazine and many client photo shoots including mine.  
Get my personal photo shoot day checklist for the flawless production of your photoshoot including guidance on what to pack that most people forget, location planning and prop styling. 
Get tips on how to select your stand out wardrobe for the photoshoot and model secrets to flawless fits.  
"Absolutely LOVE it!"




Love all your references to designer/luxurious brands and sharing your perfume story from Milan! Your masterclass page, copy, training and approach is extremely structured, informative, inspiring and easy to follow..the audios leave you wanting to dive into the next one. 

Charlotte, USA
"I wish I had done this a year ago, would have saved me a lot of time and money and I'd be further ahead in my business!"




"Highly recommend this course- it's packed with VERY useful information, a real time saver.  I've been a personal trainer for a year and knew the importance of having a niche and an avatar and read far too many articles and listened to too many podcasts on how to find my ideal client, but still wasn't clear. I thought I had a vague idea, however, Hanna's course opened my eyes. She asked just the right questions backed with wonderful stories and examples – I not only identified a clear picture of my ideal client, but also what skills I need to develop to serve that client. Her course does even more than that – she explains in detail how to change/create a website, logo, images so that your ideal client can easily identify you as the best answer to their solutions." 

Leila, UK
"Last night, I had my first online workshop with my new brand, and it was amazing.




The most sign ups and attendees ever! Overcoming and going higher!" 

Jennifer, USA
As soon as you complete the payment, you will be sent an email with access to our private membership site where you will have immediate access the program.
CREATE YOUR STUNNING ONLINE SALES AMBASSADOR
ONLY $297
 PLUS GREAT BONUS GIFTS
BONUS MODULE - THE ULIMATE GUIDE TO CREATING AN ICONIC BRAND NAME
If you are looking for the perfect brand name for your business, this guide will take you through the step by step process of how to create a memorable and commercially successful brand name.
(Value $75) 
In this workbook, I breakdown the anatomy of a high converting content marketing plan, how to map out your content to get the attention of your ideal clients and what to write for each stage of your client's decision making journey. 
(Value $50)