How I Almost Blew My New Year's Resolution!
January is finally here and hopefully your new years resolutions have been kicked into high-gear! I have a confession to make, I had a close call on one of my resolutions. This year for six months, I am cutting out some dairy products including cheese from my diet. Over the weekend  it happened; I prepared some delicious pasta sautéed with shrimps, mushrooms, rosemary and served with fresh basil.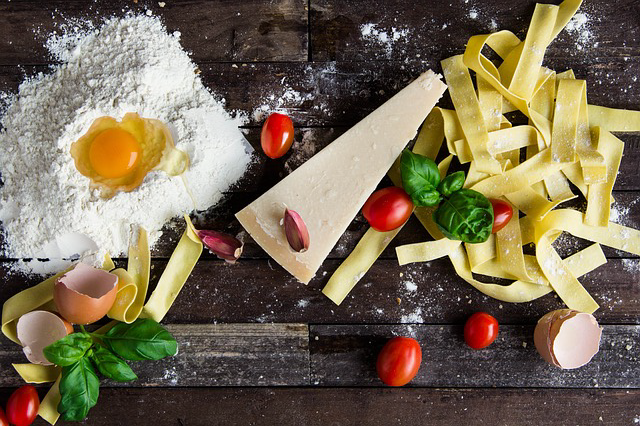 Naturally, this dish would be best served with some grated Parmesan. Mouth-watering, I started to make up some excuse about permission not being real cheese and that's just a little bit was OK! Besides this dish deserved it. When I got to the table with the Parmesan staring at me accusingly, I decided if I have made a commitment to my health, I need to honor it. With all my inner strength, I resisted the deliciousness of my pasta covered with some Parmesan, I decided to drizzle with virgin olive oil instead.
You see, I believe that the key to staying on track with your goals is to make a firm commitment and honor it. Temptation almost had me, but knowing the consequences and the desire to achieve my end result gave me strength!
Keeping resolutions can be a challenge. Research shows that only 8% of the people who set new years resolutions will achieve them. In fact 1 in 3 people forget about the goals they set by the end of January. So here are some tips to help you keep your resolutions this year:
#1 Focus on the end result only: If you set a new resolution for something you really want, focus only on what your life will be like when you achieve. Every morning see yourself as if you have already achieved that goal and let it drive you to stay focused and on track.
#2 Get an Accountability Partner: This works wonders. This really helps me regain my focus and stay true to my commitment. An accountability partner who is honest with you, will help you stay on track with your goals and of course no one likes to give a failed report, so this might help keep you motivated.
#3 Automated Alerts: If your goal has timelines make use of the reminder feature on your phone to send you alerts on the days you need to take action. You can also keep your goal in a visible location to keep it in sight. You know what they "out of sight, out of mind."
#4 Don't Beat Yourself Up Over Slip-Ups: There are times when you might slip up on your resolution. That's OK! What is more important is what you do next. Rework your plan and get back on track as soon as possible. It's never too late for a do-over!
#5 Celebrate the milestones: Hopefully you have broken your goals up into milestones and monitoring progress at each stage. For example, setting targets for by week, month or three month intervals. This gives you something to look forward in the near future, which can be more motivating than waiting till the end of the year. Celebrate each milestone and stay on top of monitoring your progress.